Sidebar
Mermaid Tail Blanket
Mermaid Tail blankets have become hugely popular recently. We have had so many of our customers looking for patterns to make these blankets for themselves and we finally have this mermaid tail crochet pattern in store!
It is a chunky wool pattern making it much faster to crochet and comes with instructions for 4 different sizes so you can make the same blanket for a child or an adult. This pattern is for Hayfield Chunky with Wool. It is perfect for making a chunky winter blanket as the wool content will make it nice and warm. It is also machine washable at 40 degrees which makes it much easier to wash than a 100% wool yarn.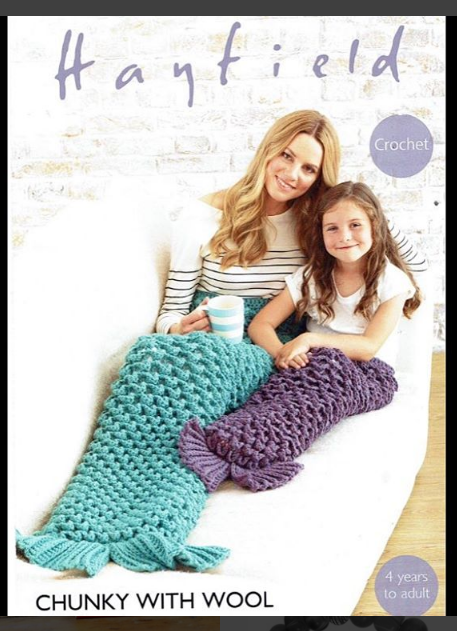 You can also use other chunky weight yarns to make this blanket. Our Rico Creative Glow Worm yarn comes in a selection of really vibrant shades. It has reflective strands running through it which will glow when a light shines on them. Incorporating this yarn in to your pattern could add a really unique touch to your finished mermaid tail.
If you are more interested in sewing than crochet you could still make a version of this mermaid tail blanket using fabric. Pinterest has an endless supply of great ideas and inspiration for projects like this. You can view our own Pinterest page here: https://goo.gl/2gEb5k . We have boards for all kinds of art and craft projects, knitting, crochet and dressmaking!
Our sequined fabrics come in a great range of shades and could be a really eye-catching fabric to make a mermaid tail blanket with, you could use fleece to line the inside and make it extra cosy. We have dressmakers pattern paper in-store which you can use to create a sewing pattern for your blanket. You can use your own measurements to map out a sewing pattern that will fit you perfectly!